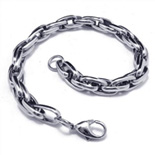 Chains and bracelets are an ideal gift idea for men. Available in different designs including those with thicker and finer links, they can be made with yellow gold or white gold in the karat of your choice. Other metals that may be used are Sterling Silver, Titanium and Stainless Steel.
Chains and bracelets can be made in different lengths to accommodate pendants and charms. They are also available in matching sets. ID bracelets can be engraved with names or sentimental messages.
Raffini Jewellers invite you to experience our exceptional service and top quality products at competitive prices.