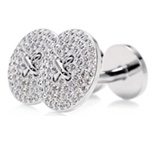 Cufflinks are a uniquely masculine item of jewellery. Made from gold, silver or any other metal of your choice, cufflinks make the perfect present for a special occasion in the life of your special man. They are popular as graduation gifts, thank-you gifts for groomsmen and anniversary gifts. Cufflinks may be set with gemstones or engraved with initials and other designs. See the Birthstones and Anniversary Stones section of our website for ideas about gemstones corresponding to months of birth or specific anniversaries.
Cufflinks can also be custom made to reflect a man's hobbies, sports, trade or profession. Raffini Jewellers welcome you to make an appointment to discuss your ideas.
Raffini Jewellers invite you to experience our exceptional service and top quality products at competitive prices.