Pink diamonds are the most expensive and sought-after diamonds for its luxurious and elegant aesthetics. The first pink diamonds were discovered in the Guntur district of Andhra Pradesh in India. At the time, it was part of the Goloconda kingdom — one of the two earliest diamonds are thought to have originated from here. However, currently up to 80% of the world's pink diamonds originate from the Argyle mine in Kimberly, Western Australia.
The earliest known pink diamonds — Dara-i-noor and Noor-ul-ain — are part of the Iranian crown jewels. There are many theories as to how the pink colour is formed in the diamond, the most prevalent one being the diamond is subjected to enormous pressure during its formation.
Raffini Jewellers is proud to have a range of pink diamonds for sale to be made into classic rings or custom made engagement rings. 
Surprise Your Loved One with a Pink Diamond Ring 
Pink diamonds usually signify beauty and attractiveness; it also portrays feelings of delight, happiness, tenderness, and love. This is the perfect gem to place in engagement or promise rings for your significant other.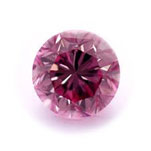 The rings crafted from this gem usually look elegant, classy, and aesthetically pleasing. Raffini Jewellers has various designs of pink diamond rings for sale. We can even custom design a ring of your choice. Let us help you design the most exquisite pink diamond ring as a symbol of your love and commitment. 
Find the Perfect Pink Diamond Ring for Sale in our Sydney Store
Whether you're looking for a pink diamond ring, or something a bit more unique like rings with emeralds or sapphires, head over to Raffini Jewellers at King St, Sydney. With more than 20 years of experience, our family-run jewellery store is the perfect place to contemplate a ring that best showcases your adoration and devotion. If you have any questions, feel free to call us on 02 9233 6770.