Vibrant gemstones make for remarkably stunning jewellery. When it comes to gemstones, blue, in its countless colourful avatars, has remained one of the most fashionable and popular choices over the years. Favoured for its sparkle and splendour, sapphire is by far the most celebrated gemstone in the colour spectrum of blue. If you are looking for an alternative to traditional diamond ornaments, jewels in varied shades of blue make for gorgeous and unique options. However, there is more to blue than the well-known option of sapphire.
A few of the better-known versions of blue jewels include the following:
Lapis Lazuli – Mined in Afghanistan and surrounding regions, lapis lazuli is a rare jewel prized for its vivid and intense hue. This shimmering deep blue gem with golden inclusions enjoys a fabled past where it was considered to have magical powers.
Aquamarine – With its refreshing watery hue, the colours of aquamarine range from light blue to a slight greenish tinge. This fascinatingly beautiful stone has inspired designers to create newer artistic cuts over the years.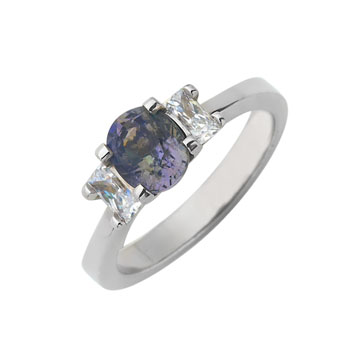 Paraiba Tourmaline – The rare hues of electric blue, greens, and brilliant violets of Paraiba Tourmaline has made it a favourite of jewellers as well as mineral collectors. Every tourmaline is born unique. This highly available and glorious gemstone is undoubtedly one of the most popular choices for jewellery aficionados around the world.
Tanzanite – Found exclusively in the foothill regions of Mount Kilimanjaro, the lush velvety blue of Tanzanite has enamoured us for a long time. This exotic zoisite mineral, which comes in a variety of colours ranging from royal purple to ultramarine blue, has become a coveted gemstone for its unusual aura and charm.
Turquoise – Among some of the world's oldest known gems, the colour of a turquoise varies from light and dark blue, bluish green and intense blue. It generally contains narrow isolates veins or network of other materials in brown, black, or yellowish-brown in colour.
Zircon – The most fashionably luxe colours of zircon are brilliant Caribbean Sea and vivid blue. Its affordable beauty has made this stone a popular choice among connoisseurs who prefer to explore the ever-so startling world of gemstones for the rare beauty called zircon.
There is no dearth of shapes, sizes, and most importantly, fascinating colours when you are looking for blue gemstones venturing beyond the familiarterritories of the famous sapphire. Every gemstone has a story to share and it is yours to unlock.