Combination or Fusion Rings: Jewellery Syle Made in Artistic Heaven
The world of jewellery is never short of magic, art, innovation, and excellence. Trends may come and go but few achieve the cult status of perennial favourites, thanks to their pioneering conception and everlasting exquisiteness. The 'Fusion or Combination Ring' is an example of such unique creations. A single piece of magnificence that best combines the finesse and multiplicity of diverse metals and gemstones – a fusion ring never fails to surprise with an overwhelming sense of enigma and dazzle.
A fusion ring merges two or more outer metal bands created out of same or different materials with an inner section. Endless combinations help you craft your own love story that remains absolutely matchless for the years to come.
Fusion Rings – An Unconventional Journey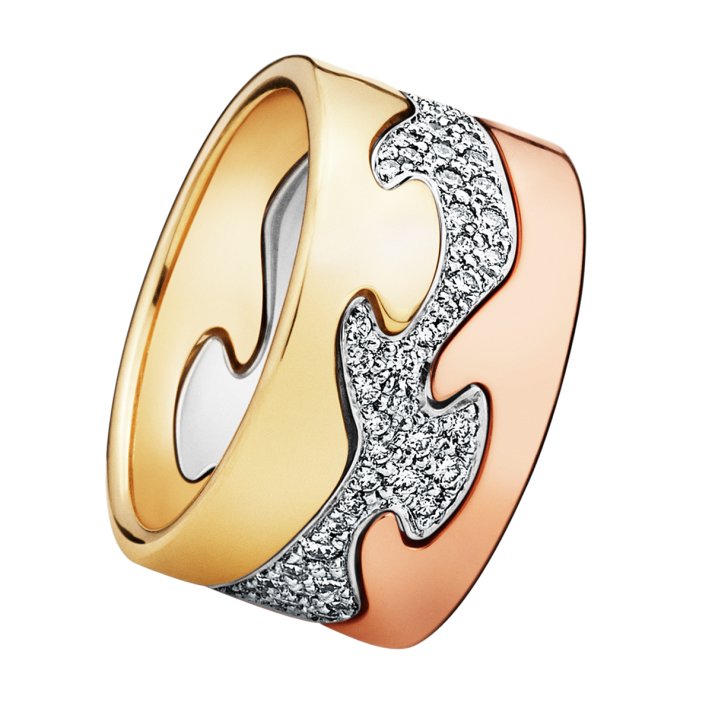 Created by famous iconic designer Georg Jensen, fusion or combination rings blend the art and science of amalgamation. These rings are an assembly of multiple rings that can be worn unaccompanied or with other interlocking tessellating rings. This jewellery is nothing short of a dazzling puzzle that represents a seamless alliance of different fascinating elements. The diverse segments of the rings come in various metals like sterling silver, white gold, rose gold, and gemstone like diamonds.
The best part about fusion rings is that they astonish you with their never-ending combinations. You can opt for a pave set central band in rose gold and choose two or more rings in rose gold or white gold that can be intertwined with the central gold band to craft a single ring.
Designs and Assortments Galore
Thanks to the versatility of the design of fusion rings, the choices are simply endless and so are the surprises you will experience every time you come across a virtually new ring! Diamond, white gold, and rose gold are three most popular preferences when it comes to fusing the different coloured metals and gemstones. Whether you want to build a new ring, or add to the existing ring, choose any combination of four, three, or two pieces with or without the diamonds. The choice is entirely yours.
Single section rings are available in a wide variety of designs. The three piece and two-piece sections can be included, allowing you to purchase one single ring already crafted and complete. There is just no dearth of diversity and amazement when it comes to splendid fusion rings.
Show off your style with majestic and exceptional combination rings.