Looking For a Matching Wedding Band?
Getting engaged is one of the most exciting times in your life. There is the exhilaration of being in love, committing to a future together, sharing the news with friends and family and, of course, choosing the perfect engagement ring to symbolise your pledge.

Amongst the heady excitement of choosing an engagement ring, you could be forgiven for paying little attention to a most important addition down the track – your wedding band! If you have decided to design your own engagement ring and have it custom made by a jeweller, chances are that the jeweller will draw to your attention the wedding ring design that will need to be made eventually.
So what happens if you bought your engagement ring without planning for your wedding band? Relax, there are always options available. Just keep in mind that an engagement ring and wedding band should look like they were made for each other – just like the couple getting married!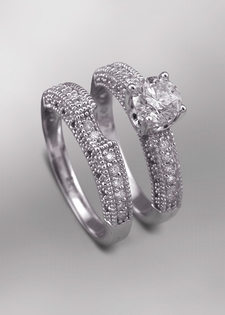 Depending on the design of your engagement ring, you may be able to buy ready-made wedding bands which will work with your engagement ring. If this proves difficult, the best solution is to get a custom made wedding ring. A custom made wedding band will ensure that your wedding band is the best possible match for your engagement ring – from the fit of both rings together, the type of metal used, the style of the band and the setting of gemstones. Yes, it is quite a lot to consider, but an experienced jeweller can give you professional advice on what will work best for you.
To put it in simple terms, if your engagement ring has a straight band with a setting of regular height (as opposed to a low setting), it is very likely that your wedding band will have a straight band too. Engagement rings with bands that are not straight or have settings that sit low on the band will require fitted wedding rings so that that both rings sit perfectly together.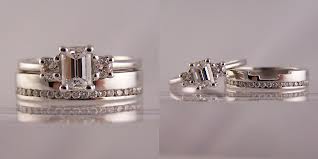 When you have your wedding ring custom made, you can be sure that the wedding ring will be designed to follow the contours of the engagement ring. Additionally, your wedding ring will be designed with the ideal band width and metal finish to complement your engagement ring. Other details you would like to feature on your wedding ring, such as diamonds, can also be included in the design.
To find out more about fitted wedding bands and what would suit your engagement ring, make an obligation free appointment with Raffini Jewellers.
Niree Nadjarian