March Birthstone- Aquamarine
March is one of the months associated with 2 extremely beautiful and exotic birthstones- aquamarine and bloodstone. While bloodstone is not that well-known, aquamarine, due to its beautiful name and wonderful appearance along with certain powers, has made a place in the hearts of people.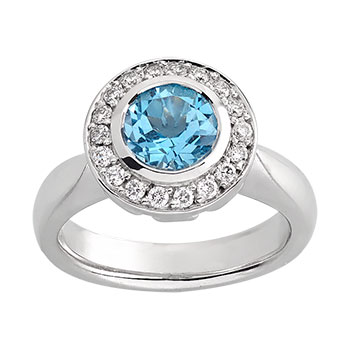 Aquamarine, the name has been derived from the Latin word 'aqua' meaning water and 'marina' meaning sea. Therefore, aquamarine is a stone found in the sea bed and is blue in colour. Aquamarine has beenconsidered to be the harbinger of happiness and peace and is believed to induce sleep. Some even believed that aquamarine can help in holding one's age by promising everlasting youth. An eerie myth about aquamarine is that one can invoke the devil with aquamarine placed in the mouth to ask questions. Are you feeling spooked by this information? Do not- because it's a myth. Nonetheless the stone is extremely pretty to look at and can mesmerize an onlooker with its charm.
The largest aquamarine was mined in Minas Gerais in Brazil in1910 weighing more than 110 kg with 42cm as diameter. One can only imagine how big was and how many rings, earrings and other ornaments studded with aquamarine pieces could have been made from this large stone. Aquamarine has another title to its merit; that of being the most sophisticated of stones. Sailors down the ages have had a special connection with aquamarine. The soft blue hue of the aquamarine soothes the mind and is also considered as a protector by the sailors. Among the zodiac signs it is associated with Pisces.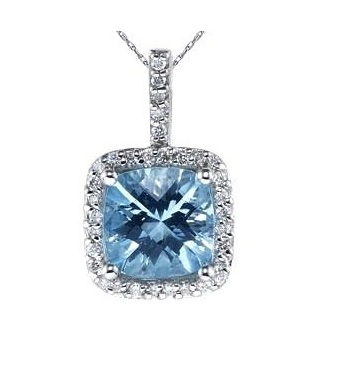 Aquamarine is believed to be the ideal gift for the 18th wedding anniversary. Many celebrities all around the world have been spotted wearing an aquamarine. It is one of those stones which can complement any complexion and almost any attire. The greenish blue aquamarine is slightly rare; however, the deep blue and the pale blue versions are available in the market all the time. Since it is believed to possess lot of healing and intuitive power, experts are of the opinion that an aquamarine kept inside water will have its powers enhanced. In order to avoid being cheated while buying it, you must see it against light where the colours change at different angles.