White Gold Diamond Engagement Rings:
Exquisite and Sensual
Selecting a diamond engagement ring is never easy as you will always search for the perfect ring that best suits the preferences of your beloved. If traditional and classic is her choice in ornaments, try surprising her with a diamond studded golden band. However, if she has a penchant for everything unconventional yet attractive, take your pick from the finest white gold diamond engagement rings.
White gold is a chemical magic that combines the yellow glow of usual gold with any white metal like palladium and Platinum to create a white alloy. White gold, like its golden counterpart, is also measured in the units of carats. 18 carat white gold is the finest choice when it comes to creating dazzling diamond engagement rings as the lower version of 9 carat is not strong enough to cling to the precious stones. The final dazzle of the metal band comes from the glossy veneer of rhodium. Though the plating may get affected by years of usage, you can simply get the re-plating done at Raffini Jewellers studio, conveniently located in Sydney's CBD.
The price of white gold diamond engagement rings is determined by the carat weight and purity of the band as well as the diamond. Other important decision makers are the cut, clarity, colour, and shape of the diamond. White gold diamond engagement rings come in a wide array of designs – ranging from the traditional round shaped brilliant cut translucent diamond to princess cut square diamond in any conceivable colour – the selection is extensive and awesome.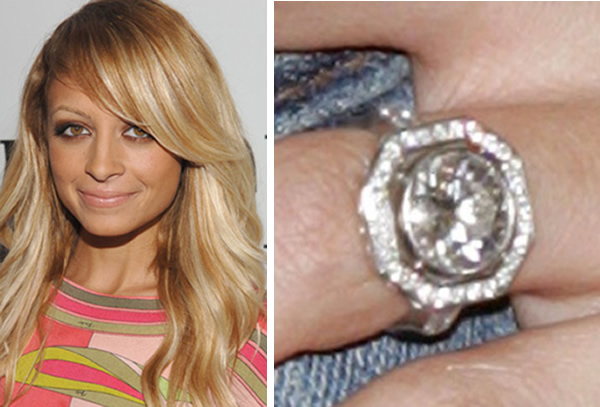 Round brilliant, white gold diamond solitaires have hogged the limelight and the popularity chart in equal measure for ages. This has been a global favourite for buyers, including celebrities like Nicole Richie, who received a round brilliant cut diamond engagement ring in 2010 from Joel Madden. Her ring is set with over 4 carats of diamonds with the round centre diamond bezel set. Nicole's main diamond is surrounded by a border of smaller diamonds in a polygon shape.
This trend is followed closely by the princess cut dazzlers that have captured the attention of consumers with its unique sheen and its unrestrained sparkles. Diamonds are available in numerous shapes and colours. For instance, if you want your sweetheart to flaunt the superbly stunning and precious blue diamond, choosing a white gold band is the best idea. The subdued fair elegance and minimalism of white gold will flatter the deeper tints of the azure diamond.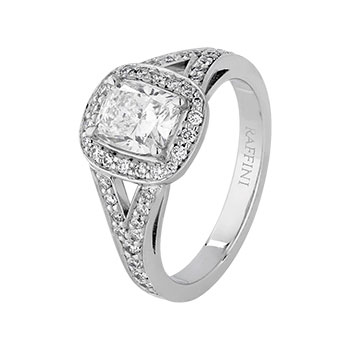 White gold diamond engagement rings are precious and striking in their appearance and evoke a sense of unobtrusive brilliance and sensuality. With this ring you can simply sweep your beloved off her feet. This is the perfect ring to complement an equally extraordinary individual. To view a large range of designs, visit our gallery at Raffini Jewellers.