Raffini Jewellers offer expert opinion and service when it comes to designing unique, custom-made engagement rings in Sydney CBD. The beauty of this is that you are given the opportunity to participate in the design process, making your jewellery all that more special and personal. We will consult with you at every stage of the process to ensure that the end product meets your expectations. After all, the most important thing is that you and your loved one create the most memorable experience possible – and what better way to do that than designing something so unique and personal as your custom diamond engagement ring?
For more information on our custom made or existing diamond engagement rings available across Sydney CBD and beyond, contact one of our talented designers at Raffini Jewellers today by calling (02) 9233 6770.
The process of Getting Your Diamond Engagement Ring Custom Made
The centrepiece stone is a key element impacting the design. Custom made engagement rings at Raffini Jewellers are available with a variety of loose diamonds and coloured gemstones to suit your budget. Have your pick from a range of stunning stones: sapphire, pink diamond, emerald or ruby to reflect the love you share with your significant other. The shape and size of the centrepiece stone will determine which custom-made design will best complement the stone. Other elements of the design to consider are the metal (yellow gold, white gold or platinum) and whether other diamonds or coloured gemstones will be added.
The picture Gallery shows our range of ready-made rings. Any aspect of their design may be changed to suit your individual preference. We welcome you to make an appointment at our store in the Sydney CBD to try them on, in order to make the decision process easier.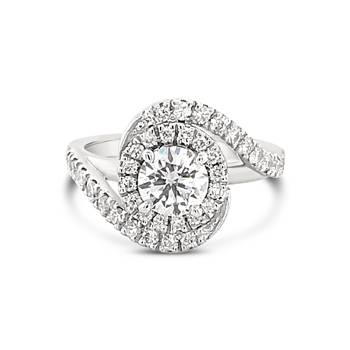 MAKING YOUR DREAMS COME TRUE WITH CUSTOM MADE DIAMOND ENGAGEMENT RINGS IN THE SYDNEY CBD
Alternatively, you may have an image of a unique custom-made engagement ring you have your heart set on that you want custom made for your special occasion. Raffini Jewellers are dedicated to doing whatever we can to perfect your experience, and will gladly discuss the requirements for creating the design you have in mind.
If you have an existing diamond or gemstone which you wish to incorporate into the design of your custom made engagement rings, Raffini Jewellers will discuss possible existing or customised options based on the shape and size of your stone.
For more information on getting an engagement ring custom made from the talented team at Raffini Jewellers, diamond rings design, or any of our jewellery services, please contact us. Give us a call on 02 9233 6770 or drop into our store in Sydney.
Further information may also be found in our Ring Buying Guide, or you can see some of our previous work on our Instagram & Facebook.