Place the words 'pink' and 'diamond' together and you have what is possibly the most feminine gemstone in the world. Since pink is the colour of universal love and beauty, pink diamonds are the ideal coloured gemstone to incorporate into a diamond engagement ring. Famously worn in stunning engagement rings by the likes of Jennifer Lopez and Anna Kournikova, pink diamonds can transform the concept of a typical engagement ring into a truly spectacular showpiece.
Here at
Raffini Jewellers
, we can custom make pink diamond engagement rings in a way that suits individual tastes and budgets. Larger loose pink diamonds may be costly, but if you love the thought of wearing the colour of romance, smaller ones can be integrated into engagement rings by experienced jewellers. One option is to have these stones channel set or pavé set around the band. If you are on a tight budget, a smaller quantity of pink diamonds can be flush set into the band of your engagement ring.
Choosing the Perfect Pink Diamond Engagement Ring
The variety of designs of pink diamond engagement rings is endless. These stones look spectacular in eternity rings, where they may be set alternately with white diamonds. Custom made wedding rings can also be designed to include pink diamonds and can even be added at a later date, depending on the design. They also make a pretty addition to other custom made jewellery, including earrings, pendants and bracelets.
Natural Pink Diamonds vary in hue from dark red-bluish pink to intense orangey pink. The colour of your chosen metal and the hue of the pink diamonds you select should complement one another. For example red-bluish pink hues are better matched to white gold, whereas orangey pink diamonds suit yellow or rose gold.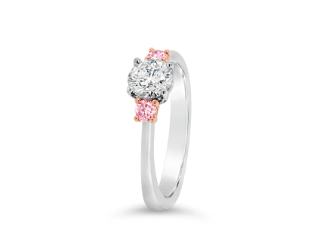 Exquisite, beautiful and rare, pink diamonds are one of the most sought after diamonds on the market. The vast majority of the world's supply of pink diamonds is mined from the Argyle mine located in the far north of Western Australia. Earlier this year, the Argyle mine unearthed the largest pink diamond ever to be discovered in Australia. Donated to the Melbourne Museum, it was dubbed the Argyle Pink Jubilee. The Argyle mine is also famous for its 'hero' diamonds, a collection of extremely rare
coloured loose diamonds
that are sent around the world for private tender.
A Beautiful pink diamond engagemet ring to Celebrate Your Beautiful Moment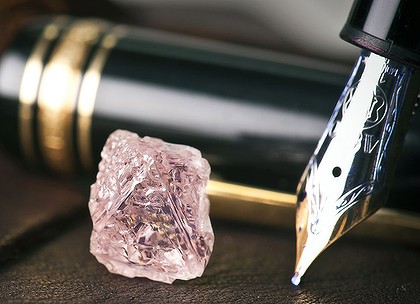 In spite of slow global economies, pink diamonds show no signs of losing popularity. In fact, quite the opposite is true. With the few existing mines throughout the world reaching the end of their production, pink diamonds have become more sought after than ever.
However, if you're looking for something different, Raffini Jewellers have a range of stones from emeralds to rubies for the perfect engagement. Come into our store and we can help you find your best match, or call us today to learn more on (02) 9233 6770.
Check Out Our Range Of Pink Diamond Rings Here:
Pink Diamond Engagement Rings
Pink Diamond Wedding Rings