Why get a Custom Made wedding ring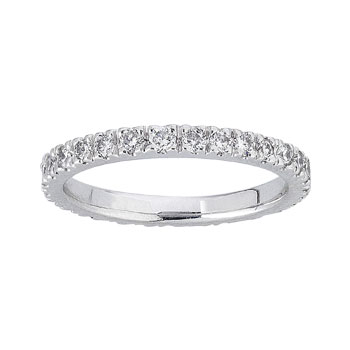 Custom made engagement rings are commonly sought after by many brides-to-be nowadays. But what about custom made wedding rings? Can a couple exercise creative input to design a wedding ring of their desire? The answer is YES!
One of the most common reasons for having a wedding ring custom made is so it can fit perfectly with the engagement ring. This is the case particularly if the engagement ring has a design that prevents a wedding ring with a straight band sitting flush against it. In this case a custom made fitted wedding ring can be designed.
Of course, you don't need a reason to custom design your wedding ring. You may have a very clear picture of the wedding ring you are after and you may not have found anything like it. Discussing your ideas with a professional jeweller experienced in custom made jewellery will be the first step towards actualising your vision. In some cases, a couple may have found a wedding ring design that they like, but would like to change one or two features. They may want the ring made in a different metal. They may have seen a ring in yellow gold, for instance, and would like it made in platinum. Or they may have liked a two-tone men's wedding ring with white and yellow gold but would prefer it to be made in rose and yellow gold. Other features which may be altered in a wedding band are the depth, width and finish of the band.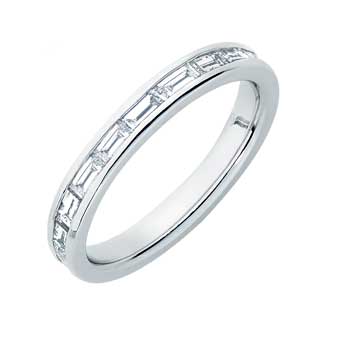 Perhaps you have seen a ring you like, but feel it is missing something. Both women's and men's wedding bands can be enhanced by adding gemstones. Depending on your preference and budget you could choose to add several small diamonds or coloured gemstones in a flush setting around the wedding band. Or you may want a half band of diamonds channel set around the wedding ring. When it comes to custom made wedding rings there are many variations of a particular design that can be achieved. If you are after custom made wedding rings in Sydney, make an obligation free appointment with Raffini Jewellers to discuss your ideas and options. Raffini Jewellers are committed to offering you the best value for money and excellent, personalised service. Our lifetime guarantee covers all custom made jewellery that has diamonds, coloured gemstones and Natural Pearls. Niree Nadjarian