The Magnificent January Birthstone
Representing the calendar month of January, the precious stone Garnet symbolises trust and eternal friendship. This splendid gemstone derived its name from the Latin word 'granatum' or seed due to the gemstone's unique resemblance to bright pomegranate seeds. This ruddy gem revels in an enriched history dating back to 3100B.C. when the mighty Egyptians adorned their jewellery with gorgeous garnets.
Origin and diversity of Garnet:
A group of different silicate materials fuse together to produce this colourfully diverse gemstone with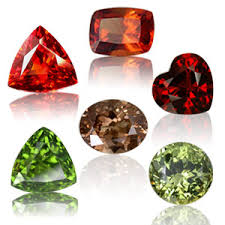 vibrant shades ranging from crimson pyrope garnet to the effervescent green tsavorites. The exquisitely assorted colour palette of garnet also includes purple, orange, browns, pink, blue, green, black, yellow, and even completely colourless. The rarest of them all is the blue garnet, highly regarded for its sheer brilliance and qualities of colour transformation in sunlight – from purple, green, to varied hues of blue. However, in the context of birthstone, red garnet has been commonly referred for use.
Saga of January birthstone:
The January birthstone represents the first month of the Georgian calendar. It signifies the characteristics of the said month and reflects the unique personality traits of an individual. Your birth date determines the birthstone for your zodiac sign. Capricorn and Aquarius are the two zodiacs featured in January. If you are a January-born with a passion for jewellery and precious gemstones, garnet is an ideal choice to reflect your personality and make distinctive style statements.
Garnet, the January Birthstone, spells splendid elegance:
Garnet, compared to diamond and emerald, is reasonably inexpensive and looks extremely vibrant and dazzling when set in silver, platinum, and gold. Since, ancient times, this gem has been believed to bestow the wearer with fidelity, love, and trust. Gifting a garnet ushers in good fortune and protection for the recipient. Believed to be powered with magical properties, garnet is the symbol of devotion and loyalty.
Garnet jewellery – chic and colourful fashion: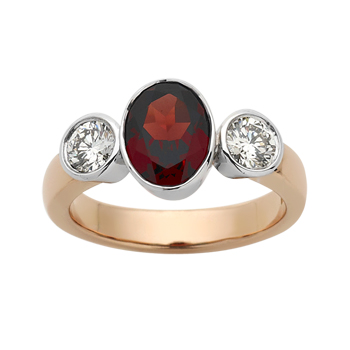 Garnet jewellery often makes for an amazing ornament. Whether used in bracelets, necklaces, pendants, earrings, rings, and even exclusive wedding bands. This glowing gemstone is an opulent accompaniment for gold, white gold, silver, and platinum. The size and cut of the stone determine its price range. The dark red colour marvellously enhances the joyous occasions of your life and brings in oodles of passion and energy into relationships.
The symbolism of garnet as the January birthstone combined with its luscious beauty makes it an exceptional gifting option for your loved ones.