Pink & Blue Sapphire and Diamond Engagement rings
Elegant Sapphire and Diamond Engagement Rings for Sydney Couples
When it comes to the stunning blend of sapphire and diamond, unquestionably, the outcome is nothing short of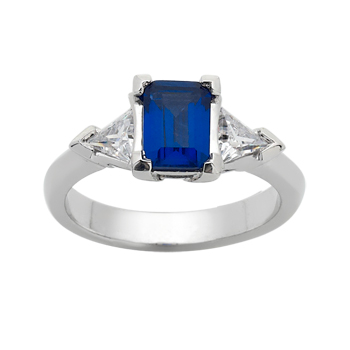 brilliant jewellery.
Among jewellery aficionados around the world, pink, blue and the traditional white sapphire engagement rings have been a favourite. There are legions of admirers, both royals and commoners, who prefer this spectacular combination over the clichéd formula of transparent round diamonds, largely commoditised by mass marketers.
This magical blend of white, pink or blue sapphire adorning engagement rings enjoys an illustrious history dating back to the times of Napoleon when he proposed to Empress Josephine with a sapphire and diamond masterpiece. The most recent case in point is the engagement ring of Catherine, Duchess of Cambridge, which she inherited from Princess Diana, who was presented with it by Prince Charles, back in 1981. The 12-carat sparkling sapphire surrounded by 14 smaller diamonds is currently worth around $500,000. Sported by the famous and celebrated, pink and blue sapphire engagement rings have climbed the popularity charts with much gusto.
If you are ready to make the right investment, then you have come to the right place. Review the selection of unmatched white, blue and pink sapphire engagement rings from Raffini Jewellers in the Sydney CBD.
Design Your Perfect Blue or Pink Sapphire and Diamond Engagement Ring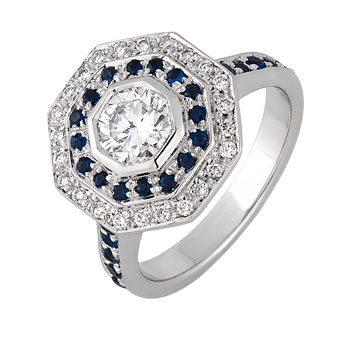 The designs of white, blue or pink sapphire engagement rings diverge creatively and uniquely. Individual stylistic preferences play a key role in determining the precise design of the engagement ring. If you are focusing on the exclusivity of the sapphire – opt for a ring where a brilliant sapphire of superlative class is embraced by an array of carefully matched exquisite diamond side stones or vice versa. You can even choose to have a blue or pink sapphire to complement the diamonds you have chosen.
Alternatively, you can experiment with the shape of the gemstone to avoid the common monotony of rotund dazzle. Cushion-cut pink and blue sapphires are scintillating in their finesse and cut distinction. The oval, marquise, princess, asscher, pear, and emerald-cut rings are also renowned for their splendour.
If you are ready to spend a considerable amount of money on a white, pink or blue sapphire engagement ring, make sure you buy jewellery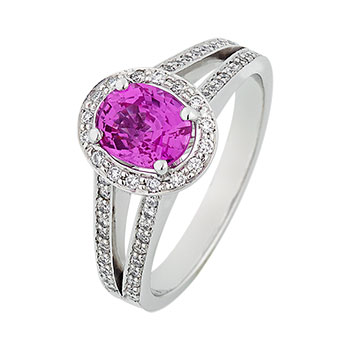 from a jeweller of repute. As a proud member of the Jewellers' Association Of Australia, Raffini Jewellers abides by the highest business and ethical standards of the Code. The eminence and mastery of the jeweller's craft help to ensure that the gem's beauty is perfectly accentuated and never compromised. High polish, symmetry, the precision of the cut, and purity of the gemstone coupled with the jeweller's mastery determine the excellence of a ring.
Invest in This Sophisticated Piece of Jewellery for Your Engagement
To get the best deal for the thousands invested, make certain that you check the opacity and importantly, the size and cut of the pink or blue sapphire on your engagement ring. The authenticity certificate is necessary to guarantee the genuineness of the product. A sapphire engagement ring is the definitive symbol of true love and lifelong commitment. Whether you get it in striking pink hues or a beautiful blue sapphire — in its magnificent radiance, it is the pledge of a future together.
Raffini Jewellers also has luxurious and opulent pink diamond rings and emerald rings, should you be interested in expanding your range of options available. If you're looking for something with more of a personal touch, we also do custom made engagement rings.
Feel free to call us on 02 9233 6770 or visit our store on King St, Sydney CBD. Alternatively, follow us on Facebook & Instagram today.