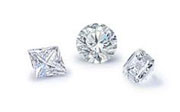 Diamonds are considered to be one of the most exquisite luxuries imaginable. The symbolism of diamonds is unparalleled – tantalizing, everlasting and cherished. Whether for yourself or someone special, diamonds are a gift like no other.
Raffini Jewellers are experienced in creating custom made diamond rings– from diamond engagement rings to eternity rings – as well as diamond studs and diamond pendants. Raffini Jewellers can help you design the perfect diamond ring or diamond jewellery for any occasion.
As specialists in custom-made jewellery, Raffini Jewellers deliver exceptional service to produce diamond jewellery that is specifically designed to fulfil your expectations. If you have an idea or an image of your ideal piece of diamond jewellery, Raffini Jewellers' uncompromising standards and professionalism ensure you will be satisfied with your custom made diamond jewellery. Not only will you be thrilled with your new diamond engagement ring, you will also be pleasantly surprised at the very reasonable cost compared to jewellery retailers.
Raffini Jewellers cater for all your needs and requirements when creating the diamond ring you envision. We offer a range of loose diamonds for you to choose from and can discuss with you the characteristics of the diamonds you are interested in. Further along the design process, we will discuss with you ring designs, settings and varieties of metals. We pride ourselves on our attention to detail, consulting with you at every opportunity to make your diamond ring according to your vision. See the Ring Buying Guide section to discover more.
If you are looking for diamond ring designs, our picture Gallery has a wide selection on show. Keep in mind that the rings can be modified to suit your preferences. During a free consultation at our studio, you can try the rings on and clarify aspects of your ideal diamond ring design.
When you purchase your custom made diamond rings from Raffini jewellers, we will provide a yearly service at no extra cost. This includes examining your diamonds to ensure they are secure in their setting.
For additional information about diamonds read Learn About Diamonds. For further information about buying a diamond read Diamond Buying Guide.